makrolab 2000
- rottnest island
vision
phases
reports
faq
projekt atol
insular technologies
pact systems
search
contact
support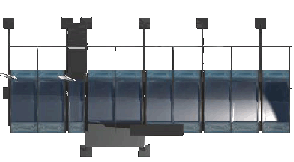 vision
Three primary global research fields have been identified within the Makrolab frame.
These are:
TELECOMMUNICATIONS
MIGRATIONS
WEATHER SYSTEMS
We at Projekt Atol and Makrolab see these fields as the territory, which we will identify, map, cross and investigate in the next 8 years, during the rest of the planned life of the project in all senses and directions. From their physical, to their psychic, social, political and artistic dimensions.
Makrolab is a processual work-machine and will be continuously developed content wise and also in its technological aspects. The designations Makrolab projects will get in the temporal sense are un1, un2, un3, un4, un5, un6, un7 and un8. The different technological improvements and systems updates, will get the designations of mark I, II, III, IV, V and VI.
The Makrolab project consists of the Makrolab architecture and modular environments, sensors, sustainability and energy production systems, food productions systems, communications consoles to communicate with it, networks and integration systems, publications and lectures. We want Makrolab to constantly investigate and move between reality and all its complexity and art in all its creativity.
ml_opcom, 1999